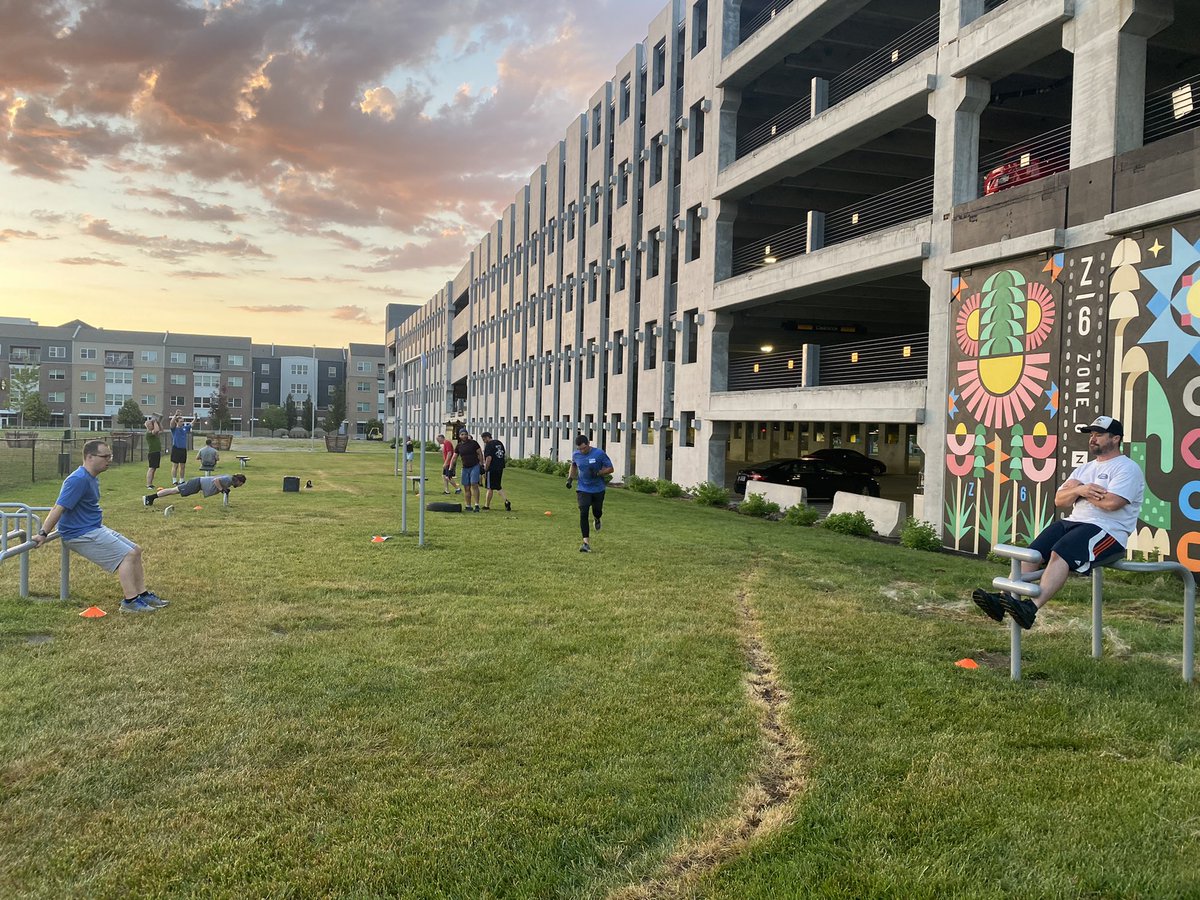 Tuesday, June 15th // Cornhusker Handicap AO // Stinson Park, Omaha, NE // 60 degrees, 80% humidity and an amazing sunrise
PAX (22): Spreadsheet, Othello, Polaroid, Ruckspin, Dome, Bovine, Lansbury, E85, Toadstool, Sister Act, Doll face, Hipster, Half Pipe, Frosty, Demogorgon, American Picker, LAX (FNG), Buns of Steel, Vintage, Two step, Stitches, Betamax
Q: BetaMax
Warm o rama at the stage
SSH IC x 20
Tappy Taps IC x 20
Big Ones IC x 20
Huffy 10 speeds IC x 15
Pre Thang 1 – Group Test
Mosey to obelisk
Line up in two lines facing each other
One side holds a plank while the other does 1 merkin
Other side holds a plank while the other side does 1 merkin
Increase + 1 until 12 merkins
*Basically, a REALLY long plank with 78 merkins sprinkled in
Pre Thang 2 – Individual test
Mosey to the gazebo
All PAX jumped up to grab the gazebo to see who could hang for the longest. Two step beat the previous record and held on for 2:03 and could have held on longer but he knew we were bored. Doll Face came in second. Nicely done!
The Thang – Station based partner grinder
Mosey to Inner Rail garage to visit BetaMax's treasure chest (trunk of his car)
BetaMax handed out equipment to half the PAX consisting of kettlebells, dumbbells, elastic bands, coupons, GoRuck sandbags, tires, etc. and the PAX carried them to the appropriate cones setup near the brand new workout equipment area of Stinson Park.
The PAX partnered up and one partner did a station while the other ran to the stairs on inner rail and back. BetaMax's stereo was blasting loud as usual but the timer told everyone to rotate every two minutes and 15 seconds.
Back extension machine
Pull ups / hangs
Step ups
Air squats with 60lb sandbag
Kettle bell swings
Blockees
Tire throws
Kettlebell Swings
Shoulder Press w/coupon
Bicep Curls
Big boys on machine
Omaha was called at 6:04 and we moseyed to the grassy area in front of Genesis
6MOM
Flutter kicks IC x 20
LBC's IC x 20
Box cutters IC x 20
Plank 30 seconds
Left arm 10 seconds
Right arm 10 seconds
Moseyed to shovel flag
Name o rama, naming a FNG, announcements prayers and COT
Our new FNG is a former Lacross player and earned the name of LAX. Welcome!
Announcements:
We have 2.0 workouts coming up this Saturday, so check the schedule and bring your kiddos.
We have an opportunity to do some 2nd F with Northstar on Friday, so check Slack for details
Prayers
Hipster's friend Marylin
Two steps friend
Frosty's friend and Touché's mentee recently passes away
Heart surgery for Cassidy
COT:
People often work harder on their careers than on themselves. Strive to accelerate in all areas of your life. Tangible examples were shared.